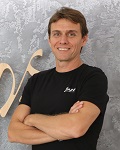 TAHA ERPULAT
Body Arts Pilates Studio Baps Bebek
Founder of Body Arts Pilates Studio
BBU Pilates Master Trainer
Director of Balanced Body Turkey
He graduated from Marmara University School of Physical Training and Sports in 1995. Having the Turkey Aerobic Championship, Taha Erpulat has also took part in many organizations as a trainer.
He represented our country with great success in the European and Balkan Championships in the branch of Sportive Aerobics. During his almost 20 years of experience in fitness, he worked as a trainer of fitness and aerobics and also as a manager at the outstanding sports clubs of Turkey.
Working only as a pilates trainer for 12 years, he has been training pilates instructors with the title of Training Director and Master Trainer of Balanced Body University-Turkey, with the center located in the Unites States of America, California.
In his classes, he does not only instruct pilates exercises, but also provides both his students and the pilates trainers with the necessary information and understanding on rehabilitation of various spine and joint disorders, the pregnants and those who suffer osteoporosis.
In addition, he attended various conferences in the States and in several cities in Europe, on human anatomy and pilates. He had trainings from the first and second generation pilates trainers such as Ron Fletcher, Romana, Lolita San Miguel, Elizabeth Larkam within these conferences, including 2007 PMA Orlando, 2008 Pilates On Tour-Rome-Italy, 2009 Pilates on Tour-Rome-Italy, 2010 PMA Long Beach, 2011 Mentor Program- Costa Mesa- LA , and 2011 Basi Master Program - Costa Mesa – LA. He is now the coordinator of Bebek, Anadoluhisarı and Erenköy branches of Body Arts Pilates Studio (BAPS)- which he founded- and gives pilates trainings.